About the company
We are a large family harvesting and processing the eiderdown according to our ancestor family tradition in Hrappsey Breidarfjordur, Iceland Jon Peturson born 1584 and a farmer discovered how to clean the eiderdown. Reference: Esp.3025, Lrm, Vík.IV.41, ÍÆ.I.130/III.246, Æ.A-Hún.321.5, Laxd.144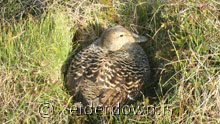 The way we approach the bird has been unchanged for centuries since the 15 century at least, which may partly explain why Iceland is the largest exporter of eiderdown in the world. By approaching the bird with respect and concern we manage like all other eiderdown farmers in Iceland to harvest the eiderdown without harming the bird. We see the same marked bird go to the same nest year after year.
On the other hand the cleaning process has modernized since then and according to modern standards.
There is a common knowledge than eiderdown is the biologic lightest and best isolation substance in the world.