Information about our products
The down is dried and then heated up to over 120 deg Celcius, to kill all germs and germs particles. Then after a short centrifugation the unnessesary dirt leaves the eiderdown. Then the rest of the eiderdown is cleaned manually. Afterwards we wash it with a special light downcleaning agent. The duvet is then filled with a pure, cleaned, eiderdown 800-1000grm depending on the size of the duvet.
Duvets of eiderdown (see picture) are available on stock in the sizes of 200X200 cm., 170X200 cm., 140X220 cm., 140X200 cm., 100X140 cm., 90X110 cm. and 80X100 cm. Other sizes are made by customers order.
Pillows are available on stock in the sizes of 60X80, 50X70, 40X50, 35X45 and 35X40.
Price:

Special offer
Duvets 2900$
Pillows 1750$
NEW! Pure eiderdown duvet for infants size 90x100cm. Price 1100$
The price for a duvet is:
2900 USD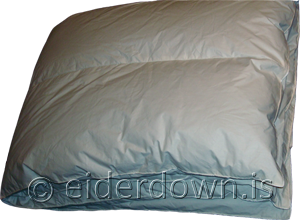 The price for a pillow is
1750 USD

We do accept Paypal.